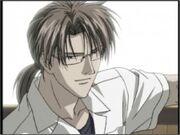 "I'd be in your side, Kagetora."

His real name is Nagahide Yasuda. He is the first time appeared in Takaya school and before he has conjured up was his best friend. Which of course you right, has only in the Vergangenheit. He gekämpft. He probably 19 years ago, loyal Kagetoras side affects for most people, stubborn and arogant to Ausenwelt. He is the second strongest in the team.
Ad blocker interference detected!
Wikia is a free-to-use site that makes money from advertising. We have a modified experience for viewers using ad blockers

Wikia is not accessible if you've made further modifications. Remove the custom ad blocker rule(s) and the page will load as expected.